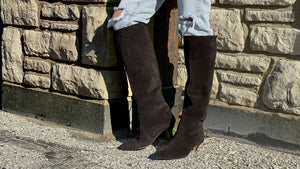 Customer Service
SIZING
Are sizes listed in the US?
Yes, all sizes on our website are US sizes.
RETURNS
How do I request a return?
If you are unsatisfied with your purchase, we gladly accept returns within 30 days of your order date. Returns must be unworn or unused products with all original tags and packaging accompanied by an original Carlos by Carlos Santana receipt or invoice. Returns for Men's shoes please visit returns.carlosshoesformen.com.
I want to return a shoe that was a gift. How Do I do that?
For help with returning a gift you received, please email info@CarlosShoes.com for assistance returning the item. Please note that to assist you, our team will need the phone number, first and last name, or email address of the person who gifted you the item. Typically, a return will be refunded to the original purchaser's payment method.
How long does it take for me to get a refund?
In most cases, we receive returns within 5-10 business days from the shipping date. Once the return is processed, it can take 2-10 days for your financial institution to refund the money to your original payment method.
What are your shipping and return policies?
Shop with Carlos Shoes and enjoy free shipping on all orders! With our no-nonsense return policy, there are absolutely no catches or special exceptions. Request a label for your domestic returns to info@carlosshoes.com. You get returns with our 30-day return policy back to the warehouse absolutely free.
ORDERS
How long does it take after I order for my shoes to ship?
Typically, you can expect in-stock shoes to ship 2-5 days after placing an order. Standard shipping should have your shoes arriving in 7-10 days barring shipping interruptions or weather delays.
I placed an order but have yet to receive an email confirmation. What should I do?
If you have not received your order confirmation email from CarlosShoes.com, please get in touch with customer service at info@CarlosShoes.com, and the sales team will assist you.
Do you currently offer Gift Cards?
Currently, we do not, but it is on our To-Do list. Sign-up to become a Carlos Insider to get notified when we make them available.
Do you sell Men's shoes?
For Men's shoes please visit carlosshoesformen.com.
PAYMENT INFORMATION
Do you charge sale tax on shoes?
We only collect sales or use taxes in states imposing sales or use taxes; your purchase is subject to use tax unless it is specifically exempt from taxation. Please note: A purchase is not exempt merely because it is made over the internet or remotely.
What forms of payment do you take?
CarlosShoes.com currently accepts Visa, MasterCard, Discover, and American Express for all orders.
Do you accept PayPal or Venmo?
Currently, we do not accept PayPal or Venmo.
Other Important Links: